Learn Microblading With Master Kler Rosenberg
Semi-Private Advanced Microblading & Shading | Boca Raton, FL
Kler Rosenberg
$4,000.00 USD
Beauty Angels Academy USA Headquarters: 1200 S. Rogers Circle Boca Raton, FL 33487
Semi-private- in the case that there are no other students available on your desired day, you are required to pay the private course fee

| OPTIONS | SUPPORT | PRICE |
| --- | --- | --- |
| PREMIUM KIT | 6 MONTHS | $4,000.00 |
Learn how to create different brow beginnings
Learn new stroke patterns
Make your business explode by learning how to follow the latest
microblading trends that will attract more clients
Offer your clients more possibilities by expanding
your microblading knowledge
World's Best Master Kler Rosenberg Will Be Your Master Trainer
Kler was recently awarded "Best Microblading Master Trainer In The World" for 2018. She was one of the first Artists to bring microblading to the United States in a big way and has been teaching the art since 2016. Having performed thousands of microblading procedures and having personally taught over 4,000 students, Kler launched Beauty Angels Academy publicly in March of 2019, her own worldwide PMU academy. She was chosen to be the feature speaker at the American Academy Of Micropigmentation Conference and has been invited to speak at many other conferences since. Her passion for teaching is reflected in many of the 850 Five Star reviews on her academy's Facebook page.
(Our Microblading Artists Earning Above 6 Figures)
We have many students who have gone on to build incomes above $100,000 from microblading. Here are just a few:
What's Included In The Live Advanced Microblade & Shade Course?
Three courses in one. Learn advanced brow different brow beginnings, full brow patterns, man's brows and advanced shading techniques.

The Beauty Angels Kit (See kit options below...)

The BeautyPro Online / Mobile Application

6 months of ongoing support directly from your master trainer to ensure that you achieve the Beauty Angels standard.

Students who purchase courses with NO KIT option will only receive Digital Certificate after completing the online levels.
Facebook: Beauty Angels Student Support Group
Use this group to share your progress and have any and all questions answered by Master Trainers and your fellow Beauty Angels Artists!

Get lifetime access to this Facebook Group

This group is exclusive for Beauty Angels Academy Students
Weekly Zoom meetings hosted by 2 Master Trainers every week!

Take notes, ask questions, and practice on latex with other students and Masters

Link available at the Facebook Beauty Angels Student Support Group

Meetings hosted every Monday at 7 pm EST

Get lifetime access to Angel Support Time Zoom Meetings
FOR LIVE COURSE STUDENTS:
Once you attend your Live Training, you can go to that same type of course anywhere else in the world with any Master Trainer! (e.g. Attend Live Basic Microblade & Shade Course with Master Mary in Miami. You can now go to another Live Basic Microblade & Shade Course with Master John in London.)

If you choose to sit in another Live Course of the same technique, a minimal fee will be charged by the course organizer to cover snacks and lunch provided in the training

You can attend as many Live Courses as you'd like

You can also have the option to work on a model for an additional fee, that needs to be discussed with the specific Master Trainer
Premium Kit
course price: $4000.00
3 BOXES OF DISPOSABLE TOOLS
1 PACKAGE/3pcs. LATEX PRACTICE SKIN
1 BOX OF BEAUTY ANGELS COURSE KIT
purchase our course and receive $1,300 in Business Building Courses FREE!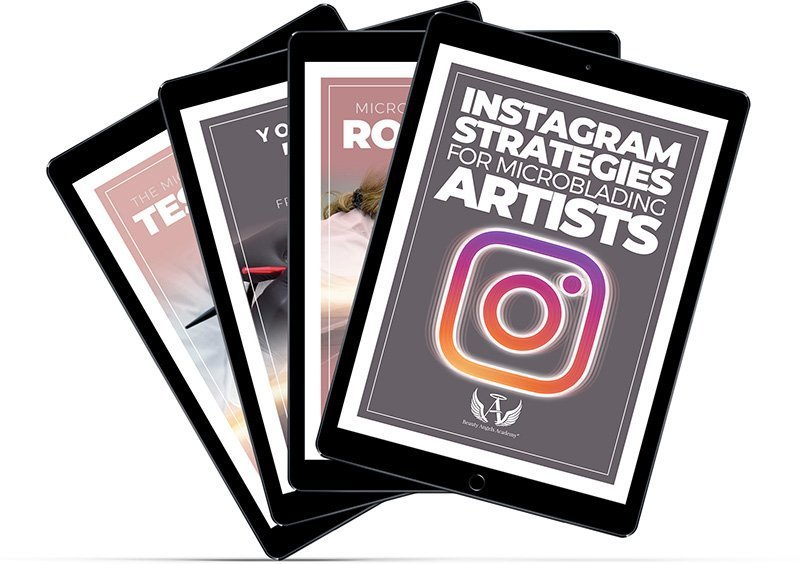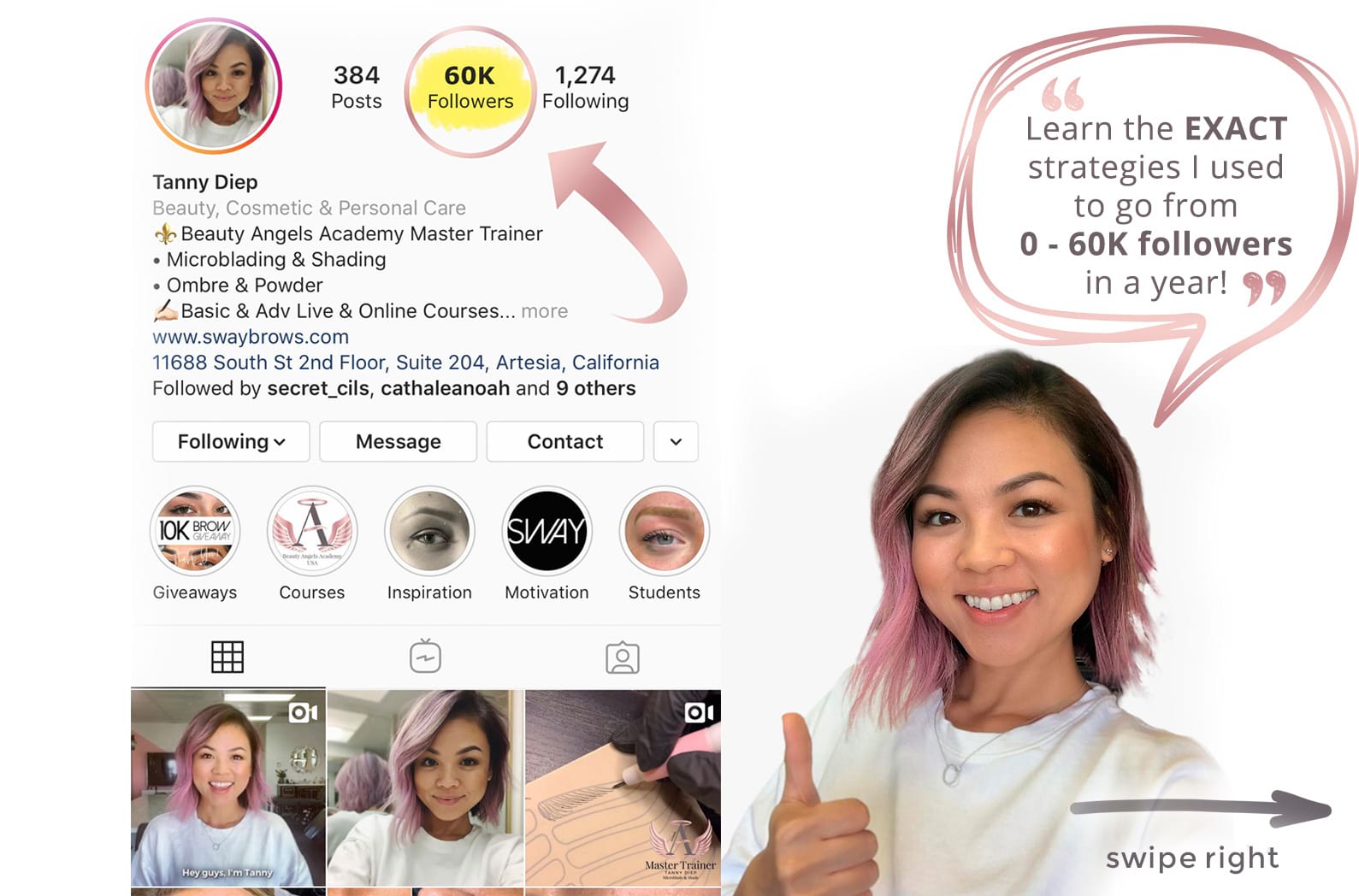 This $147 program includes
The 10 EXACT strategies Tanny (@swaybrows) used to go from 0 to 60K followers in one year!

How you can use these same strategies to quickly blow up your own Instagram!

How to get tons of microblading & PMU clients from your Instagram account!
This $300 Career Roadmap includes...
The EXACT STEPS our most successful microblading artists took in their first 6 months

Clear action steps you can follow easily

A comprehensive plan to help you establish your new career in 6 months. All you need to do is follow the roadmap!
This $500 program includes...
EXACTLY how 5 of our most successful microblading artists made their first $10,000

Almost 5 hours of interviews FULL of ACTIONABLE strategies YOU can use now!
If you can make $10,000 from microblading,
you can make $100,000
This $200 Career Test Drive includes...
A behind the scenes tour, guided by Master Kler Rosenberg of her studio and the microblading career daily experience

Direct coaching from Kler on how to present yourself professionally, how to deal with clients, and grow your business
Got Questions? Contact Us Now!
Our friendly staff would love to hear from you and help answer any questions you have. Complete this quick form and they will get right back to you!